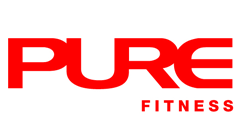 We're Open - Important Updates and Reminders
STRONG BODY, STRONG MIND. STRONG COMMUNITY.

We re-opened all PURE locations yesterday and we're so stoked to have you back! The past few months have been unprecedented for us all, but we're so thankful that you've remained with us on this journey. You've provided some great feedback over the last couple of days – so here are a few updates and reminders to keep you in the loop.


PureCast (Online Live-stream classes via Zoom) -
Unlimited Booking extended to all Active and Suspended Cardholders until 28 June:

We understand that you may not be ready to come back to PURE in the initial stage of re-opening. To keep things flexible for you, all Cardholders can continue enjoying complimentary access to PureCast til 28 June. From 29 June onwards, PureCast will be available to active cardholders only.
Join your favourite yoga teachers and fitness instructors live at the studios/gyms or online from the comfort of your home!

With a staggering

175 PureCast classes weekly

and all with a

24-hour playback option, you'll never miss out on your daily practice or workout.
All PureCast classes can be booked

via the PURE 360 Lifestyle app

– just go to 'book' and these classes will appear on the schedule.

Booking is unlimited and opens 2 days in advance, so let's get started!

Physical Location Advance Bookings:

PURE can host up to 50 members per location at any one time. During this period, kindly note:
For Yoga, each member will be allowed one advance booking per day – however, standby option is still available.

For Fitness, each member will be allowed one advance booking of a preferred pre-set timeslot per day. This can either be general access to the gym, a group fitness/cycling class that you can book through the PURE 360 Lifestyle app, or a personal training session booked via your Personal Trainer.

If your membership entitles you to access both Yoga and Fitness, you can enjoy two advance bookings (one yoga and one fitness) per day.
For more information click here.


Free Suspension:

The next billing will start on 16 July but to provide more flexibility during this period, you may apply for a free suspension from 21 June to 15 July 2020 – on or before 28 June 2020. After the free suspension period, your membership will revert to its normal billing. If you choose to visit our locations between 21-28 June, you will not be eligible for this free suspension.

If you opt for free suspension, PureCast will not be available for booking from 29 June onward. Should you wish to continue using PureCast after 29 June, please keep your contract activated or if you are currently on suspension, you may re-activate your contract here.

Read our re-opening FAQ's here.