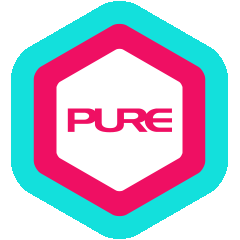 Meech is the Director of Group Fitness for PURE. One of PURE Fitness' most dynamic leaders, Meech's commanding presence onstage has earned her popularity and respect in many different countries throughout her 20 years of instructing experience. Originally from New Zealand, her passion for group fitness was first ignited at Les Mills in Auckland. She has presented at quarterly instructor workshops in New Zealand and has since taught in Australia, Singapore, Thailand, China, USA, UK and currently resides in Hong Kong.
Meech's background in competitive gymnastics, love for music – she holds a teaching qualification in classical piano (ATCL), Grade 8 in violin and Grade 5 in Guitar – and infectious enthusiasm make every workout with her fun and challenging.
Meech is a reknown Master Trainer for TRX and Rip Trainer, Global Master Trainer for ViPR, Master Trainer for Rumble Roller (SMR techniques) and a Mentor/Assessor for Polestar Pilates. She has been instrumental in developing these programs, training instructors and PT's, and launching them successfully in the Group Fitness environment for PURE. Development of new initiatives, training and coaching of instructors are Meech's forte and passion. With innate drive, tenacity and attention to detail, she spearheads the strategic development of new programs and manages a large and diverse team of international instructors and trainers across the region.
Outside the gym, Meech has had a highly successful career in the electronics industry, having been the CEO for Philips New Zealand Ltd. She now dedicates her spare time to charity work, participating in grass root programs for children in the local community and volunteering for animal welfare organizations.
Qualification Highlights
• Master Trainer for TRX STC, GSTC, Rip Trainer
• Global Master Trainer for ViPR
• Master Trainer for Rumble Roller- Self Myofascial Release Techniques
• Mentor/Assessor for Polestar Pilates
• Les Mills Certified Instructor for : BODYPUMP™, BODYCOMBAT™, BODYSTEP™, Grit™
• Les Mills Presenter at New Zealand Workshops and Quarterlies
• Certified in Bosu Balance Trainer & Ballast Ball
• Australian Fitness Network Certification in Fitness Leadership
• Radical Fitness Official Trainer for Fight-Do
• Muay Thai Level 1 Certification
• New Zealand North Island Gymnastics Champion
• Teaching Qualification in classical piano (ATCL)
• Bachelor of Commerce - double major, University of Otago, New Zealand

Training Areas
• BODYPUMP™
• BODYCOMBAT™
• TRX
• ViPR
• Grit™
• PILATES
• SMR

Personal Interests
• Animal welfare, music, dancing, movies, dinner with friends and family.

Training Philosophy
Meech lives by the motto of "Live with integrity and be passionate about everything that you do".
What Meech Teaches
BODYCOMBAT
BODYPUMP
Circuit Blitz
GRIT
Pilates
Rip Circuit
Roller Release
Tabata
TRX BLAST
ViPR
Other Instructors at PURE Fitness