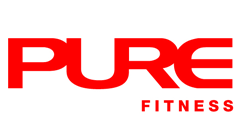 News
Les Mills 2018 Fitness Cracker Finale
Pure Fitness Lee Theatre, Langham Place Office Tower & ICBC Tower
Saturday, 15 December
Hundreds of participants commemorated the last Les Mills launches for 2018 across Pure Fitness Hong Kong at ICBC, LTP and LPF. Their enthusiasm was resounding, their efforts unsurpassed, and their shared passion – phenomenal!
At Lee Theatre Plaza, the day started with a dose of HIIT in the main studio for GRIT Strength 27. Bodies were jolted alive with challenging Monster Sets where 4 moves are performed back-to-back for two minutes over 3 rounds. A most stimulating start to the weekend! SPRINT 14 in the cycling studio ignited muscles and reflexes with 8 rounds of Power Tabata. The upside was that everybody got to do this while still fresh, enabling the class to reach their maximum training intensity for fast results! RPM 81 followed with a rush of adrenaline in Track 4 with its cool music and multiple changes of position at lightning speed!
Meanwhile at Langham Place, BODYCOMBAT 78 landed with a boom to give everyone a challenging Muay Thai training with its half guard block and multiple combos that tested coordination and endurance! BODYJAM 87 came right after to transform the fitness studio into a nightclub! HIP HOP and House blew the roof off in tandem with the special hit "Mi Gente" that created a dance revolution!
Back in Central, ICBC kicked off BODYATTACK 103 with our beloved 'three amigos' – Brad, Denis and Dan. Enormous plyometric challenges in tracks 4 and 9 pushed participants to their limits... and beyond. Once again, this programme delivered in its promise of an athletic yet fun group class. BODYPUMP 108 followed, led by our very own Regional Director of Group Fitness Meech Aspden, who announced her last Les Mills launch with PURE before her relocation back to New Zealand. Meech has been a driving force behind the success of Les Mills programmes and all things relating to Group Fitness at Pure over the last 8 years. Meech, you will be greatly missed!
The day wrapped up amidst the magic of BODYBALANCE 83. Focusing on a fabulous musical journey from energy to stillness, this release brought everyone back to a state of serenity and equilibrium – recharged and ready for the festive season.