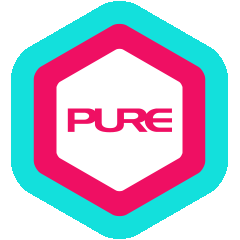 News
PURE PINK 2020
For Hong Kong Cancer Fund's Pink Revolution & Maggie's Cancer Caring Centre.
Breast cancer is the most prevalent type of cancer among women in Hong Kong and the third most common cause of cancer-related deaths in our city. PURE is proud to continue our decade-long support to those who are affected.
Support Hong Kong Cancer Fund in 3 ways:
SHOP FOR PINK!
PURE Apparel for Cancer Fund Pink Revolution
All month long, buy selected PURE Apparel products + partner brands (including accessories) and we will donate 15% of the proceeds.
Click here for details
23 October 2020 – Dress Pink Day
Another great reason to shop for your PURE Apparel pink piece today and get photo-ready!
Take part in the YOGAFORPINK Challenge!
Get a friend together to practise Navasana (Boat Pose).
This pose requires focus, strength and coordination but it is much easier when you have a partner to share the challenge with.
PURE Apparel got prizes for the most liked photos on social media, so get posing!
Click here for full details
Tag #pureyogaofficial #PUREPINK2020 #YOGAFORPINK #hongkongcancerfund #PinkRevolution2020
Support Maggie's Cancer Caring Centre in 2 ways:

Only in October – nood Pink Smoothie
For each Pink Smoothie sold, nood will donate HK$20 to Maggie's Cancer Caring Centre.
Click here for details
Rooftop PINK Charity Class
Join PURE Yoga teachers Laura Gutkowski & Margaret Chung for a heart- opening session to support Breast Cancer Awareness Month.
Date: Saturday, 24 October
Time: 10:30am to 12:00 pm
Location: PURE Yoga Starstreet Precinct
Minimum donation: $300 (includes surprise treats!)
For details and to register, click here
This class is open to the public, so bring a friend along! Pre-register by contacting any PURE Yoga location.
We encourage cash donations to avoid any bank charges; all donations are non-refundable.