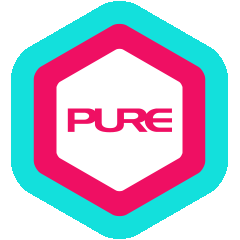 PURECAST – Online Class Guidelines for Cardholders
How to Join a Class
PURE Cardholder

s

can book classes through the schedule on the PURE 360 Lifestyle app.

Booking opens 2 days in advance at 9am and close

s

30 minutes before the class start time.

Once your booking is confirmed, 15-20 minutes before the class starts, an activation link will be sent to you via the email provided on your PURE profile and in PURE 360 App. Or you may click on the "watch live" button in your bookings on the PURE 360 App.
*Please do not share the Zoom activation link with others – it is unique to you and can only be used on a single device at one time.
Check the class description for any equipment or set-up requirements.

For support, please email

info-purecast@pure-international.com
Tips and Recommendations
Be ready early, ensuring that you have a good workout space, connection and sound.
Set up your screen where you can see it easily. You may turn your camera off during your workout/practice.
You can join via

a

mobile, but a device with a larger screen is recommended.
Switch off your notifications to limit distractions.
Check that your surroundings are safe – a carpet or fitness/yoga mat is best and take extra care where tiles may be slippery.
If props / equipment is needed, this will be specified in the class description.
Wear appropriate workout attire and footwear. The class description will specify if footwear is unnecessary.
Have water and a towel handy.
Mute your microphone.

Notify your teacher/instructor (you can send a message in the video platform) of any injuries or conditions that you may need options for or if you are a beginner/first-timer.

Be respectful of others in the class.
Terms and Conditions
Online classes are only available to active PURE Cardholders.
Classes may be booked up to 2 days in advance with booking open from 9am Hong Kong/Singapore time. Once booked, cancellations are not accepted

and

no refund or credit

will be

given.

Class booking closes 30 minutes before the class start time

.
All classes have a maximum capacity.
All classes are 45 to 60 minutes in duration.
On rare occasions

as needed, PURE

reserves the right

to substitute the teacher/instructor or the class/workout

with

a similar one.
Recording or redistributing of classes is strictly prohibited.
Participants must be over 14 years of age.

Participants accept

all risk and responsibility for their own participation, should consult

a

medical professional before taking part in any exercise

,

and follow any individual guidelines that doctors or specialists have prescribed.

In the case of in-class live-streaming, participants will be asked to fill out a consent form as they may be visible in the PURECAST filming.

Participants are

responsible for provi

di

ng their own viewing device and stable internet connection.

Participants are

responsible for providing

their own

safe and appropriate space and surface for the

online

class.
Read our FAQ's for more information on bookings and 5-day replays.