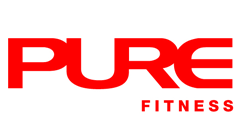 Virtual Reality Bike
"Life Fitness with VirZOOM" is a virtual reality fitness solution created as part of a pilot partnership between VirZOOM and Life Fitness. It transforms Life Fitness' Discover SE3 bikes into a virtual reality experience. The VirZOOM Module allows VirZOOM software to access data from the bikes such as pedal speed, resistance buttons and heart rate, all of which enable VirZOOM gameplay. Users will be able to use the resistance buttons on the bikes to control gameplay when the VirZOOM Module is plugged into the console and enabled. Leveraging VirZOOM technology and games with Life Fitness equipment harnesses the users' emotional response in VR and motivates them to move. Using the pedal stroke to operate a car, tank, Pegasus and more motivates exercisers to move like never before – and enjoy themselves while they get a workout.
Pure Fitness is the first gym in the world to feature the LifeFitness with VirZOOM virtual reality bikes.
Try the Virtual Reality Bike at Pure Fitness ifc mall in Hong Kong and Pure Fitness Ngee Ann City in Singapore now!
Learn about our Virtual Reality Bike:

See it in action:



How to Use:



How does it feel:



360 video (Use a VR headset to view this video!):