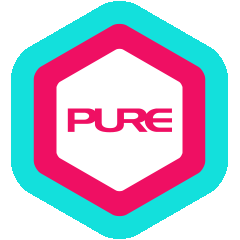 News
Championing complete wellness for 20 years
Two decades on – we're glowing and thriving thanks to you, PURE community!
Join our celebrations with the 'Brawn ON' Challenge to win prizes and a ProPT-centric workshop led by our professional teams at all locations from 21 Oct - 4 Nov.
Brawn ON Challenge | 12pm – 1pm & 6pm – 7pm​
Mon, Wed, Fri & Sat noon (12pm)​ starting 21 October
Male – 20 Pull-Ups in 2 minutes
Female – Hang Bar for 1 minute
*Participants who meet or exceed the criteria can redeem a free nood food protein smoothie. Top winners in each category at each location will receive a grand prize. Other rules apply.
PT Workshops | 12pm – 1:30pm
21 October Asia Square Tower
WORKSHOP 1: Squat & Deadlift Technique by Yassir
Feeling back pain when you squat or deadlift? Refine your technique and lift pain-free.
Learn the fundamentals of performing the squat and deadlift as well as progression and regression to scale lifts to your level and get hands-on with the barbell.
Suitable for practitioners of all levels, including beginners.

28 October Suntec City
WORKSHOP 2: Myofascial Release by Hafiz
Feeling achy? Learn tips for trigger point release and foam rolling.
Reduce soreness and help tissue recovery. Assist in general body relaxation, circulation improvement, and the release of stress, tension and knots. Learn the basic anatomy of major muscle groups, identify trigger points, and follow best practices to release muscle tension. Receive a massage ball from us during your session!

4 November Ngee Ann City
WORKSHOP 3: Speed & Agility Training with Terry
Bored of weights? Spice up your training, improve your athleticism and bring speed into your training routine.
Achieve maximum velocity and quickly change direction without losing speed, coordination, balance, strength, or body control. Learn speed drills to enhance explosiveness as well as agility drills to improve lateral movement and how to train with the agility ladder, track and grandstand.
Bookings are available via the PURE360 app.
Limited spots are available on a first-come-first-served basis.
*Photos and videos may be taken solely for PURE marketing purposes.

Terms and Conditions apply.


Forward to our brightest future yet