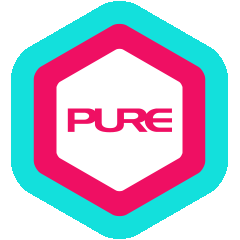 About PURE Fitness
Why we're here
We inspire and help people to lead healthier, happier lives.

What we do
We provide an inspiring environment and passionate professionals, realising the very best of every body
Once you've tried yoga classes at PURE Yoga, you may be interested in complementing your exercise regimen at PURE Fitness. We are dedicated to serving the community of healthy and active living, by bringing the best fitness experiences from around the world. In over a decade, PURE Fitness has established its fitness presence in Hong Kong and expanded into Singapore and Shanghai.
Specialty facilities include dedicated boxing and kickboxing spaces, Polar Cardio GX System, athletic turf, gymnastics movement zone, Technogym zone with VisioWeb internet access, Life Fitness and Iron Grip Resistance Training, Power Plate zone, Woodway Curve, Jacob's Ladder, and open functional training area in every fitness centre complete with advanced training tools such as Kettlebells, Bulgarian Bags, Pilates Reformer, TRX and Medicine balls, and complimentary induction sessions for all new joins.
Always on the ball when it comes to sourcing the latest and most advanced industry equipment, we feature big names like LifeFitness, Technogym, power lifting platform, Eleiko, Iron Grip, Total Gym, Power Plate, Woodway, Jacobs Ladder, Keiser and more.
Our professional team consists of PTA Global certified trainers and passionate instructors who lead over 50 types of Group Fitness classes weekly that are suitable for all levels of strength and experience. All that you'd expect to find at a world-class gym - internationally recognised Les Mills programmes, Immersive Cycling THE TRIP™, Pilates and Core Training, plus Indoor Cycling. Then there's the fun and flair of dance-inspired classes that run the gamut of Hip Hop, Latino Jam and Jazz Funk. Plus a host of specialised offerings such as TRX® Suspension Trainer and Rip Trainer, Barre, Tabata, Self-Myofascial Release.
In addition to our live classes, a vast range of Fitness On Demand virtual classes provide both convenience and flexibility. Complementing these exhilarating fitness experiences are Innovation Lab, Small Group Training (SGT), Private Dance sessions, workshops and special events with guest teachers from around the globe.
Need more motivation? All our cardio equipment is fitted with personalised entertainment systems, and there are complimentary workout gear, towels and toiletries.
No excuses - build your body with the best.