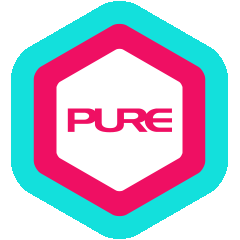 'On Your Own' - Fitness Etiquette
We understand that not everyone will work with a ProPT all of the time (though we hope that you will some of the time). We do believe, without a doubt, that the best way to improve your fitness is with one of our ProPTs or class instructors. Below, you will see the rationale behind this belief.
We have put together a short planning guide to get the most out of training at PURE Fitness if you are on your own. This includes tips, advice and general rules to follow for a great experience.
Peak Times:
Most people will come before work, during lunchtime and after work with differences from location to location. Peak times are high-energy, exciting and fun! It also means you may have to limit certain activities that are more accessible during slower, off-peak times. Simply put – please be considerate of your surroundings and observe our etiquette rules.
Some specific requests we have regarding Peak Time training:
Be mindful where you jump rope or perform complex exercises like Kettlebells and Bulgarian Bag. Be sure it is not in a high-traffic area and that others are a safe distance away.
When doing floor exercises or stretching – our open turf areas are best for standing and moving exercises, or transitioning from floor to standing. Please avoid lying down in the middle of these areas or in some cases, please relocate to our open stretch areas.
Please limit your cardiovascular training time to 20-30 minutes if you notice a queue forming. We don't strictly enforce this but hope that out of understanding and consideration, you will opt to do so. Even better, why not try one of our engaging Group Exercise classes or Metabolic Conditioning with our ProPTs?
Please avoid sled, sprint or other high-space requirement exercises during peak times when these training areas are typically in high demand.
Please allow others to work in with specific equipment.
Guideline & Etiquette:
We endeavour to provide all cardholders and guests with a rewarding training experience. We ask all of our Cardholders and guests to also do the same for one another by following a few simple etiquette rules:
Wear appropriate clothing during exercise. Except when participating in yoga classes, chest area must be covered and no torn clothing is permitted.
Use proper athletic footwear in the Strength, Group Exercise and Cardio training areas. Going barefoot, wearing socks only (no shoes), open toe and non-athletic shoes are not allowed in these areas for safety and hygienic reasons. Shoes are not required when participating in certain classes (ex: Yoga, Pole dancing, Mat Pilates, etc.) and while using the boxing area. We also recommend you wear proper footwear for each class whenever possible, such as cycling shoes, platform shoes or boxing shoes. These can enhance the comfort and enjoyment of your training.
Please keep equipment clean and hygienic - always use a towel and please wipe away excess sweat once you have finished.
Please keep the training area as organised and safe as possible - do not drop the weights, lower them with control. Always put away all equipment once you have finished using it. If you need assistance, please contact a member of the Fitness Department.
Spaces and Equipment:
Make the most out of our facilities by following these simple guidelines.
Inbody Assessment – Please ask our staff if you would like to have an Inbody assessment. In some cases we may have to schedule an appointment, but we will do our best to accommodate you any way we can. Please do not use this equipment without staff supervision.
Shoes-Off areas – No shoes please when using our soft-mat surfaces that include Open Stretch, Gymnastics and ProBoxing training areas.
Strength Areas – Please be mindful of the space required for your lifts, such as barbell training. We ask that you use the dedicated spaces for lifts such as Deadlift, Squat or weightlifting in the Racks or on Platform. Please do not drop the weights, lower them with control.
Platforms – We encourage all our clients to engage in weightlifting progressions. It's a great way to train! However, there is a specific series of safety concerns and practices that must be followed. Please ask our ProTraining staff about the important guidelines for training on Platforms.
Use of chalk – Chalk is helpful for keeping hands dry and improving your grip. But please be mindful not to make a big mess and disturb others.
Please ask our team if there is any equipment you are not sure about. We are here to help!
General Training Tips:
To ensure that you work out smartly and safely:
Warm up properly – This will prepare you for more intense exercise. We suggest Active Dynamic exercises, mobility work and bodyweight progressions.
Have a plan – Know what you want to accomplish from each training session. Do you have a strength goal, metabolic conditioning or want to work on your mobility? Plan your workouts so that they will ultimately lead to your larger goal.
Be flexible – Sometimes what you want to do isn't immediately available. Have some alternatives ready so you don't waste time waiting. Can't get on a treadmill? Try bodyweight calisthenics or intervals on the Assault Bike.
Use our philosophy – By following our training philosophy and programme design principles, you will have a well-balanced and complete approach to training.
Our Best Advice – Use a ProPT!
We believe this. Working with a ProPT, ProBoxing Coach and/or a ProStretchRecovery Specialist is the best way to get results and satisfaction from your fitness training. Here is why:
Coaching: All the best athletes in the world work with coaches. They understand that having a professional eye to watch what you do, give you feedback and advice, and provide expert instruction vastly improves the time spent training.
Motivation: Understanding your driving needs and desires is what we do. Our goal is to bring out the best in you when you didn't think you could and to help you stay focused on why you are training. Identify the WHY and we will provide the HOW.
Confidence: You will get your trainer's knowledge and experience – but you will also get the knowledge and experience of our entire network of fitness professionals and education partners. We share ideas, continually educate ourselves, and work together as a team and with many of the global leaders in fitness to constantly improve our programme and skills.
Accountability: Perhaps the greatest challenge in fitness is what you do when no one is watching. That is where our ProPTs excel – we are your conscience, the voice in your head saying you are capable of doing it…eating better, training smarter, waking up early to stretch or skipping the extra beer at happy hour…because you will see us early on Monday morning! Count on us to be your source of inspiration and keep you focused on the prize.
Don't wait – ask us today about all the options available in ProTraining!