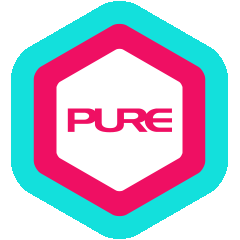 Pilates Reformer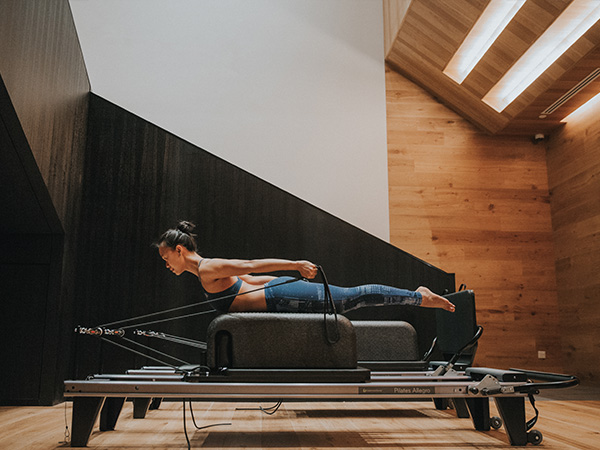 The Pilates Reformer was created by Joseph Pilates, the creator of Pilates. It is a bed-like frame with a flat carriage that moves on wheels within the frame. The carriage is attached to a set of springs that provide differing levels of resistance as the carriage is pushed or pulled along the frame.
The versatility of reformer exercises can be done lying down, sitting, standing, pulling the straps, pushing the footbar, perched on the footbar, perched on the shoulder blocks, with additional equipment – i.e. in different body orientation and using different planes of motion. Reformer exercises are designed to promote length, strength, flexibility, coordination and balance. These exercises, in turn, lead to better posture, graceful and efficient movement, with a particular focus on injury prevention and rehabilitation. The exercises provide enough resistance and movement, one of the keys to achieving the long, strong muscles and core tone without bulk that Pilates is known for.
Pilates Reformer classes are currently available at PURE Fitness Ngee Ann City in Singapore. Click here to check the schedules.
Benefits of Pilates Reformer
1. Strong Core - Mat Pilates is all the rage for core-strength building. In these workouts, you roll, twist and curl in ways you never thought imaginable to target the entirety of your torso, from your hips to your shoulders. Back and stabilizing muscles, which are often neglected in traditional fitness core workouts, benefit from this.
The reformer offers all of these Mat Pilates core-building benefits and more. The resistance of the pulley and spring system offers more resistance than what you get with just your body weight on a mat. You'll achieve even better posture and coordination than you would with a Mat or classic fitness core routine.
2. Full Range of Motion - The bars and cables of the reformer guarantee you'll move your body through a full range of motion — something you might not be able to do on your own. When you hold the cables at your arms or fix the cables to your feet, you can't help but extend fully to follow their track. When doing exercises alone without such guidance, it's easy to fall back into old patterns of movement that aren't as beneficial. You might habitually bend your knees or elbows, for example.
Pilates increases joint flexibility and articulation of the spine. This increases your ability to extend through a fuller range of motion so that you appear longer and leaner.
3. Fast and Comprehensive Results - The multiple attachments on the reformer allow you to dial your workouts back. Whether you find Mat Pilates moves too challenging or want to go beyond a Mat workout for a greater push, the reformer lets you work at your level and progress appropriately.
The resistance of the reformer means you'll get faster results from your workouts. The tension of the springs on the moving carriage adjusts to different levels of difficulty. As you become stronger and more proficient with the reformer, you progress from reclined exercises to ones that put less of your body surface on the carriage, meaning you need to use more of your own strength and coordination to execute the moves. You may even notice greater definition in your arms, legs and abs after just a few months of consistent work on the reformer.
4. A Better Body - Consistently working out on the Pilates reformer yields improvements in your body composition. A study published in a 2015 issue of Women & Health had participants with prior reformer experience perform 16 weeks of regular reformer workouts following a four-week period of detraining during summer vacation. Following the 16 weeks of reformer workouts, the participants lost fat from their triceps, waist and thighs, and gained lean mass instead.
These results were achieved after a one-hour session, twice weekly for 16 weeks. With such commitment, you, too, will grow stronger and experience shifts in your body shape and composition.
Pilates Reformer Class Guidelines
PURE's Reformer Classes are classified as Small Group Training (limited to 6 per class) to allow for individuals to receive more personalized coaching from the instructor.

It is highly recommended that participants have attended Mat Pilates before joining Reformer Classes.

For hygiene reasons, please wear socks during Reformer classes.

An extra booking fee applies for SGT Reformer classes.
Rates: SG$200 for 10-class package / SG$25 for single session
Location: PURE Fitness Ngee Ann City – Small Group Training
Participants per class: Maximum 6
Schedule: Please check the Ngee Ann City SGT schedule
*Terms and conditions apply.
Small Group Training is only available to existing PURE Cardholders with access to PURE Fitness Ngee Ann City. Otherwise, additional drop-in rates apply for Non-PURE Cardholders.
For enquiries, please email us or call 6100 8898.
PURE Fitness Ngee Ann City
Level 8 Ngee Ann City Podium Block
391 Orchard Road
Singapore 238872


Terms and conditions:
Advanced booking for pre-scheduled Small Group Training (SGT) sessions can be made up to 2 days in advance and is available for SGT Package clients only.

Reservations for Small Group Training (SGT) sessions must be cancelled at least 2 hours in advance or session will be forfeited.

Small Group Training (SGT) sessions will be forfeited in case of no-shows, unused sessions, late arrivals and cancellations with less than 2 hours advance notice.

SGT fees are non-refundable and non-transferable.