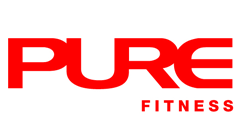 Small Group Training
Small Group Training (SGT) offers diverse training methods using functional movements at a high intensity. As you evolve so does the training, preventing plateaus and keeping workouts fun and interesting.
Small Group Training is a cost-effective way for people to experience the tailored benefits of working with a fitness professional whilst also creating camaraderie amongst the group of 6-10 like-minded individuals – because iron sharpens iron! Discover our brand new Small Group Training on the ground floor of Pure Fitness Ngee Ann City – and only best-of-the-best world-standard equipment and training tools to ignite that calorie burn.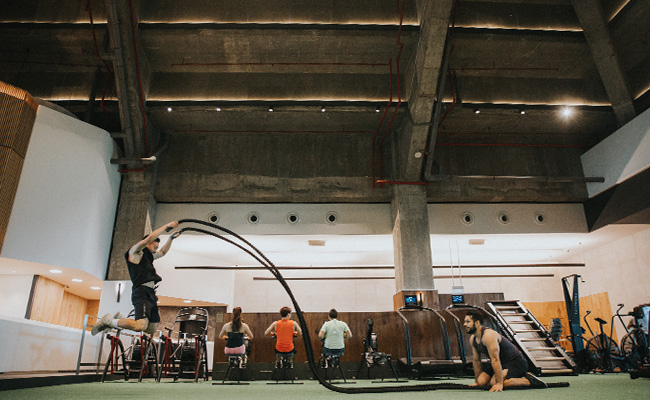 The Types of SGT Classes
SGT Turf

Strength
Strength is a fundamental part of all training regimens. SGT STRENGTH works with heavy load, range and control through a variety of exercises. Focusing on major muscle groups, we use forces to increase maximum strength and muscular endurance.
The goal – work to maximum fatigue whilst being under constant challenge to build lean muscle, tone and create definition.

Athletic Endurance
SGT ATHLETIC ENDURANCE is for those wanting a constant sustained level of intensity and challenge.
Using longer durations of work and higher number of repetitions, this session will test and eventually enhance your muscular and cardiovascular stamina to boost athletic performance. Exercises are cardio-based with some weight training incorporated.
Those training for trail runs, marathons or any other long distance disciplines will find this a great complement to your training.

Core
Core strength is a vital part of everyday movement, functionality and performance. SGT CORE focuses on improving all aspects of your core strength from the mid-chest to mid-thigh area – and works the front, sides and back of the body. Not only will this prevent injuries and improve posture/alignment, it will also improve all aspects of your fitness.
From activating your glutes to sculpting your six-pack, this will be a challenge comprised of isolated and functional movements.

HIIT (Coming Soon)
SGT HIIT is about incorporating aspects of strength, speed and power. SGT HIIT offers a mixed-training approach focusing on short intense efforts followed by short recoveries. An outstanding way to improve both aerobic (with oxygen) and anaerobic (without oxygen) capacity whilst also burning a tremendous amount of calories.
SGT Wattbike
The Wattbike is an excellent indoor bike, not only in replicating real ride positions and the feel of a road bike but also as a tool to gain information about your ride technique and fitness level. Suitable for everyone, from the complete beginner or person recovering from injury to the most experienced fitness enthusiast. SGT Wattbike requires base testing, which determines your personalised training zone and then puts in place a 6-12 week training plan. Alternatively, drop in anytime for shorter-term goals with workouts that provide more flexibility for any busy schedule.
Find out more about Wattbike here.
SGT Pilates Reformer
The versatility of reformer exercises can be done lying down, sitting, standing, pulling the straps, pushing the footbar, perched on the footbar, perched on the shoulder blocks, with additional equipment – i.e. in different body orientation and using different planes of motion. Reformer exercises are designed to promote length, strength, flexibility, coordination and balance. These exercises, in turn, lead to better posture, graceful and efficient movement, with a particular focus on injury prevention and rehabilitation. The exercises provide enough resistance and movement, one of the keys to achieving the long, strong muscles and core tone without bulk that Pilates is known for.
Find out more about Pilates Reformer here.
Rates: SG$12 per class
Location: Pure Fitness Ngee Ann City – Small Group Training
Participants per class: Maximum 10
Schedule: Please check the Ngee Ann City SGT schedule
*Terms and conditions apply.
Small Group Training is only available to existing Pure Cardholders with access to Pure Fitness Ngee Ann City. Otherwise, additional drop-in rates apply for Non-Pure Cardholders.
Terms and conditions:
Purchase of Small Group Training (SGT) sessions can be done at Pure Fitness Ngee Ann City reception (or at our other Fitness locations' reception)

Small Group Training (SGT) Packages have an expiry of 2 months, which begins on the date of purchase.

Single session purchases are only valid to be used on the day of purchase.

Advanced booking for pre-scheduled Small Group Training (SGT) sessions can be made up to 7 days in advance by holders of valid pre-purchased single sessions. Booking is available via the Pure app, phone, or in person.

Reservations for Small Group Training (SGT) sessions must be cancelled at least 24 hours in advance or session will be forfeited.

Small Group Training (SGT) sessions will be forfeited in case of no-shows, unused sessions, late arrivals and cancellations with less than 24 hours advance notice.

SGT fees are non-refundable and non-transferable.
For enquiries, please email us or call 6100 8898.
Pure Fitness Ngee Ann City
Level 8 Ngee Ann City Podium Block
391 Orchard Road
Singapore 238872