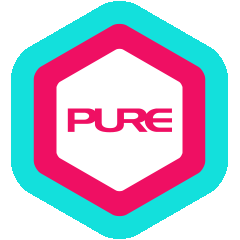 ProTraining Guideline & Etiquette
The following guideline & etiquette applies to ProTraining, ProBoxing, ProStretchRecovery and ProPilates sessions.
1. Schedule in Advance
2. Preparing Yourself Before Your Session
Preparing yourself Before Your Session
Please have an agreed-upon meeting point with your Personal Training to avoid any delays in starting your training session.
Appropriate exercise attire and training shoes must be worn. PURE provides training shorts, T-shirts and socks for your convenience. We strongly recommend you do not wear any jewellery during ProCoaching activities. Training attire that is considered inappropriate (too tight, see-through, no shirt) may lead to cancellation of your session and a request to change into appropriate attire. This may be subjective and PURE reserves the right to make this decision on behalf of other clients and our staff.

We also recommend that you stay hydrated throughout the day and avoid any heavy meals prior to exercise. Please inform your Personal Training of any special medications you may be taking and any specific injuries or concerns you may have for your training sessions. For safety reasons, PURE will not allow anyone we suspect to be under the influence of drugs or alcohol to engage in ProCoaching or to use the fitness facilities.
3. Important Session Requirements
Sign-In
Please check in at the reception desk before meeting your assigned Personal Training at the agreed location.
Session Validation
All completed sessions and any prior cancellations must be signed for at the Personal Training Reception Desk. This is to ensure an accurate record of your ProCoaching activity and acknowledgment of completed sessions.
Health History
Please be sure to disclose any important information regarding your health and wellness to your Personal Training. This includes any medication you may be taking, and illness or injury you may have. This information is vital to ensuring a safe and appropriate training session. Failure to do so may result in greater risk of injury of which PURE cannot assume responsibility.
4. General Tips and Etiquette
Personal Belongings
PURE accepts no responsibility for the loss or damage of locker contents. Daily lockers are not for overnight use. Locks from any daily lockers that are kept overnight will be cut.
Session Etiquettes
ProTraining does not provide exclusive rights to the use of any equipment. Please be mindful of other clients using the gym and follow general etiquette guidelines.
Please be courteous to PURE Staff and other clients at all times.
Please mind your personal hygiene during training – use our small towels to wipe any excess sweat from equipment after use and bring a personal water bottle for hydration.
Should you feel uncomfortable or unconfident with any exercise during your session, please ask your Personal Training to provide an alternative or adaptation that better suits your ability. Feedback is very helpful to ensuring the session is perfectly tailored to you.
Please follow the instructions of your Personal Training to the best of your ability, and ask questions about what you are doing and why. We are very happy to have interested and engaged clients who want to learn more.
During your session, please limit any non-exercise or distracting activity – such as mobile phone conversations or messaging – to emergencies. We also ask that you stay focused on the training at hand, as we want to help you reach your goals safely.