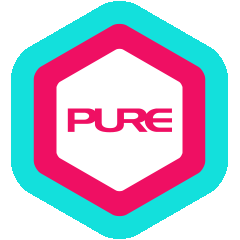 During her polytechnic days, Haw Yun was busy with schoolwork and often snacked between breaks. Before she knew it, she had already put on a lot of weight and wasn't happy about it. In her last semester, she finally took the plunge and went to the school's gym thanks to her friend's encouragement. Haw Yun's initial thought was that going to the gym would make her bulky, but that wasn't the case. The first couple of sessions were the most challenging, but she learnt that lifting weights doesn't necessarily make you bulky – there's more to it than that. When she started going to the gym regularly, her lifestyle changed. She slept better, which was reflected in her academic performance. With no prior gym experience 2 years back, Haw Yun today has made significant progress from struggling with an empty barbell to lifting 150kg for her deadlift.
After graduating, Haw Yun had no idea what she would do, but she knew that she loved going to the gym. Her desire to improve her knowledge and pursue a career in fitness led her to graduate with a degree in Sports and Exercise Science. As a result, Haw Yun developed strength levels that she never thought were possible. Stepping into the gym was one of the best decisions that she had ever made! The experience taught her discipline and that anything is possible if you put your mind to it. Fitness has become more than a hobby for Haw Yun; it's a growing lifestyle. Her perspective on fitness that she would like to share is that the numbers on the scale are not everything; body composition is made up of various components.
As a trainer, her goal is to help her clients enjoy the process, whether they're trying to lose weight or gain strength, and make fitness a part of their daily routine.
Qualification Highlights:
BSc in Sports and Exercise Science, Edinburgh Napier University (2022)
Standard First Aid (2020)
2-Star Kayaking (2018)
Level 1 Sports Climbing (2018)
Level 1 Abseiling (2018)
Level 2 Abseiling (2018)
Final Thought:
Always remember why you started.
What Haw Yun Trains
Metabolic Specialist (weight loss/gain)
Strongman/ Strength Sport
Haw Yun's Other Specialties
Powerlifting
Other Personal Trainers at Suntec City