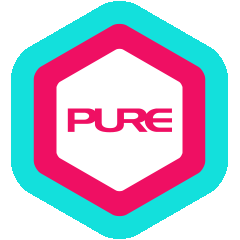 Raised in Brooklyn, Eddie Villanueva is a native New Yorker with a dance background in jazz, Latin and hip-hop styles. Eddie easily absorbed and fused different styles of dance (Jazz-Funk, Lyrical, Alternative, Hip-Hop, and Pop), movement and fitness to create E:Motions.
E:Motions classes focus on using movement as a physical expression of the mind and body, where it is challenging for both those inclined in dance or fitness. An aerobic and cardio benefit are accompanied by a mental challenge to gratify those who are keen on fitness, while dancers can hone their versatility through the exploration of expression in the various styles of dance and music used in the classes. Eddie views E:Motions as an opportunity to share his experience and assist dancers in finding their unique voice, while also being a forum for his personal and professional growth.
With his repertoire of skills, he has been an instructor at PURE since 2012 whilst continuing to tour around the world. He has taught dance and choreography to artists such as Lady Gaga, Ultra Nate, Chris Willis, Viki Wallace, SaFire and Gloria Gaynor, as well as Shanty Paredes in Indonesia and China. He has also performed in numerous live events including Dr. Oz Garden of Angels Gala, WPIX 11, Good Day New York, Havana Nights Promo and LOGO New Next Now Awards.
Eddie continues to train and grow as an individual and as an instructor. He tells his students that the learning process is never-ending - "It's never too late to step into a class and learn from one another. Even if the class is not for you, never give up, you still learned something."
Qualification Highlights
TRX Certified Instructor (2014)
Certified in Polestar Pilates (2014)
Group Exercise Instructor Certification (2011)
Dance on the Corner (2011)
Lead (2011)
Calvinography Dance (2011)
Primary Group Exercise Certification (2009)
Broadway Dance Center (2002-2009)


Personal Interests
Taking trips to the beach, dancing, a good laugh

Training Philosophy
"Being creative all the time and have it impact other people's lives... it's rewarding."
What Eddie Teaches
ABT
Barre
Pilates
Power Abs
Private Dance
Private Pilates
Rip Circuit
Roller Release
Stretch/Abs
Tabata
Total Body Conditioning
TRX BLAST
Other Instructors at PURE Fitness